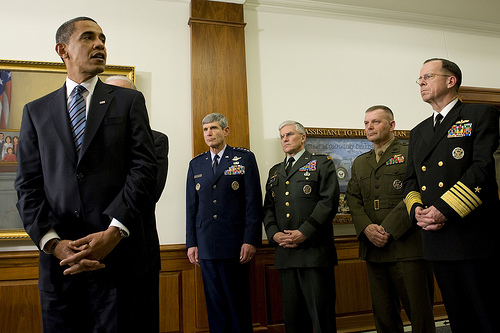 OP-ED NEWS– On December 22, both houses of the U.S. Congress unanimously passed a bill authorizing $725 billion for next year's Defense Department budget.
The bill, the National Defense Authorization Act for Fiscal Year 2011, was approved by all 100 senators as required and by a voice vote in the House.
The House had approved the bill, now sent to President Barack Obama to sign into law, five days earlier in a 341-48 roll call, but needed to vote on it again after the Senate altered it in the interim.
The proposed figure for the Pentagon's 2011 war chest includes, in addition to the base budget, $158.7 billion for what are now euphemistically referred to as overseas contingency operations: The military occupation of Iraq and the war in Afghanistan.
The $725 billion figure, although $17 billion more than the White House had requested, is not the final word on the subject, however, as supplements could be demanded as early as the beginning of next year, especially in regard to the Afghan war that will then be in its eleventh calendar year.
Even as it currently is, the amount is the highest in constant dollars (pegged at any given year's dollar and adjusted for inflation) since 1945, the final year of the Second World War. With recent U.S. census figures at 308 million, next year the Pentagon will spend $2,354 for every citizen of the country at the $725 billion price tag alone.
Last year's Pentagon budget, by way of comparison, was $680 billion, a base budget of $533.8 billion and the remainder for operations in Afghanistan and Iraq. In July of this year Congress approved the 2010 Supplemental Appropriations Act which contained an additional $37 billion for the wars in Afghanistan and Iraq.
Read full article about the Pentagon's Christmas Present: Largest Military Budget Ever here.
Russia Today Reports on the Largest Military Budget Increase Ever
Photo by Flickr user US Army