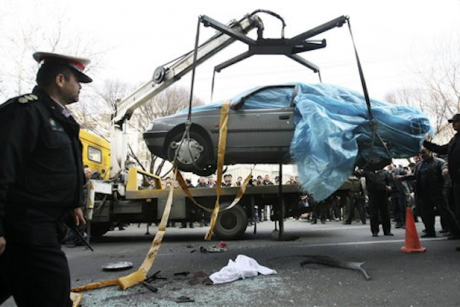 MEDIA ROOTS — RT reported yesterday how Israeli "Mossad intelligence officers posed as CIA agents in order to recruit and train Iranian terrorists…" This comes after reports surfaced of Obama deploying thousands of troops to Israel in apparent preparation for a potential standoff with Iran.
Both Israel and its Mossad are funded billions of dollars annually by the U.S. and CIA. As the U.S. Empire projects its hegemony across the globe under pretext of humanitarian intervention, U.S. allies like Saudi Arabia and Israel routinely engage in atrocities and crimes against humanity, revealing the hypocrisy of U.S. foreign policy.
Meanwhile, Glenn Greenwald wrote about the recent murder of multiple Iranian scientists by "some combination of Israel and the U.S." Western forces have a long history of disruptive intervention against Iranian sovereignty, including the CIA coup against Mosaddegh in '53.
The current killing of Iranian nuclear scientists in the midst of sanctions, threats, and intimidation against Iran amounts to covert warfare. Then Obama signs the NDAA provisions, among other things, barring transfer of detainees and insuring Gitmo's operations bolstering perpetual war. One detects an overarching theme to Obama's Presidential leadership and Executive decision-making, namely—imperialism and covert warfare abroad and class warfare domestically.

MR

***

RT — The buddy-buddy relationship between American and Israel could falter as it is revealed that Mossad intelligence officers posed as CIA agents in order to recruit and train Iranian terrorists, all unbeknown to US authorities.
American intelligence officials have come clean with details surrounding Israel's attempt to infiltrate the network of the Iranian terrorist group Jundallah. According to internal memos just released, Washington was initially unaware that agents working for Mossad, the Israeli intelligence agency, were recruiting Iranian terrorists under the guise that they would be hired and trained by the CIA.
The memos that reveal the CIA's then discovery of the program come from the last year of the George W Bush administration, and it is unsure if such campaigns still exist overseas today. What is known, however, is that Mossad — who is largely funded by the CIA and typically works hand-in-hand with their American counterpart — did not approach American officials for authorization in fronting as US agents in their attempt to infiltrate Jundallah.
"It's amazing what the Israelis thought they could get away with," an intelligence officer speaking on condition of anonymity tells Foreign Policy's Mark Perry. "Their recruitment activities were nearly in the open. They apparently didn't give a damn what we thought."
The account has been confirmed to Foreign Policy by four retired intelligence officers who have either worked with the CIA or in conjunction with Mossad.
Read more about Israeli agents posed as CIA to recruit terrorists.
© 2005-2012 Autonomous Nonprofit Organization 'TV-Novosti'

***

SALON — Several days ago I referenced a controversy that arose in 2007 when the law professor and right-wing blogger Glenn "Instapundit" Reynolds criticized President Bush for not doing enough to stop Iran's nuclear program and then advocated that the U.S. respond by murdering that nation's religious leaders and nuclear scientists. "We should be responding quietly, killing radical mullahs and Iranian atomic scientists…" he argued. The backlash against Reynolds' suggestion was intense, especially among progressive writers.
Back then, I wrote about Reynolds' suggestion several times, but I was far from alone. Law Professor Paul Campos wrote a column in the Rocky Mountain News denouncing Reynolds for publicly advocating "murder," which, he pointed out, is exactly what this would be given that the U.S. is not at war with Iran (he went on to suggest that targeting civilian religious leaders and scientists would still be murder even if the U.S. were at war with Iran); Campos added: "government-sponsored assassinations of the sort Reynolds is advocating are expressly and unambiguously prohibited by the laws of the United States." Law Professor Kevin Jon Heller documented with absolute clarity that such assassinations would be illegal in the absence of a formal war.
But the angriest reactions came from progressive bloggers, who widely denounced Reynolds as "contemptible" for suggesting this; one progressive writer, Lindsay Beyerstein, was horrified that one could even suggest such a thing, explaining that she "despair[s] for our society when it's necessary to supply a rigorous analytical exposition of why our government shouldn't have scientists and religious leaders whacked." Scott Lemieux railed against what he called Reynolds' "kooky scheme for illegal death squads" as "crackpot," "dumb" and "nuttier than a Planters factory." And Kevin Drum, then of Washington Monthly, went the furthest of all — in a post he entitled "Terrorism" — branding the killing of Iran's scientists as "Terrorism":
I imagine a lot of people agree with [Reynolds], but his recommendation really demonstrates the moral knot caused by George Bush's insistence that we're fighting a "war on terror." After all, killing civilian scientists and civilian leaders, even if you do it quietly, is unquestionably terrorism. That's certainly what we'd consider it if Hezbollah fighters tried to kill cabinet undersecretaries and planted bombs at the homes of Los Alamos engineers.
If you think Iran is a mortal enemy that needs to be dealt with via military force, you can certainly make that case. But if you're going to claim that terrorism is a barbaric tactic that has to be stamped out, you can hardly endorse its use by the United States just because it's convenient in this particular case.
Read more about More murder of Iranian scientists: still terrorism?
© 2012 Salon Media Group, Inc.
***
Photo by AP/Fars News Agency, Mehdi Marizad