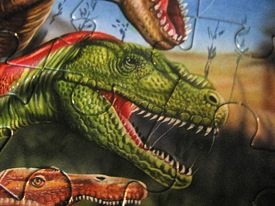 SPACE DAILY– According to new research led by a University of Colorado at Boulder geophysicist, a giant asteroid that hit the coast of Mexico 65 million years ago probably incinerated all the large dinosaurs that were alive at the time in only a few hours, and only those organisms already sheltered in burrows or in water were left alive.
The six-mile-in-diameter asteroid is thought to have hit Chicxulub in the Yucatan, striking with the energy of 100 million megatons of TNT, said chief author and Researcher Doug Robertson of the department of geological sciences and the Cooperative Institute for Research in Environmental Sciences.
The "heat pulse" caused by re-entering ejected matter would have reached around the globe, igniting fires and burning up all terrestrial organisms not sheltered in burrows or in water, he said.
A paper on the subject was published by Robertson in the May-June issue of the Bulletin of the Geological Society of America. Co-authors include CU-Boulder Professor Owen Toon, University of Wyoming Professors Malcolm McKenna and Jason Lillegraven and California Academy of Sciences Researcher Sylvia Hope.
Continue reading about Dinosaurs Died Within Hours After Asteroid Hit Earth, Research Shows.
© Space Daily, 2004
Photo by flickr user edenpictures