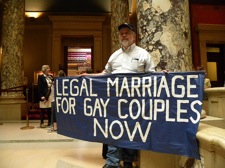 GUARDIAN– Marching in the drizzle against wars in far-off countries, writing letters protesting the government's latest reactionary policy, sitting through interminable meetings that keep sprouting Any Other Business. It may be noble, but political activism is hardly a barrel of laughs. And yet it makes you happier.
So find two university psychologists in new research that looks for the first time at the link between political activity and wellbeing. Malte Klar and Tim Kasser started by interviewing two sets of around 350 college students, both about their degree of political engagement and their levels of happiness and optimism. Both times, they found that those most inclined to go on a demo were also the cheeriest.
So there's a link – but can politics actually make a person happier? In the third study, the academics took a bunch of students and divided them up into groups. The first were encouraged to write to the management of the college cafeteria asking for tastier food. The next lot wrote asking the cafe to source local or Fairtrade products. They were then tested on their wellbeing, and the group who had involved themselves in the political debate were far and away the strongest on the "vitality" scale: they felt more alive and enriched than those who merely complained about the menu.
Continue reading about Does Activism Make You Happy?.
© The Guardian, 2010
Photo by flickr user Fibonacci Blue