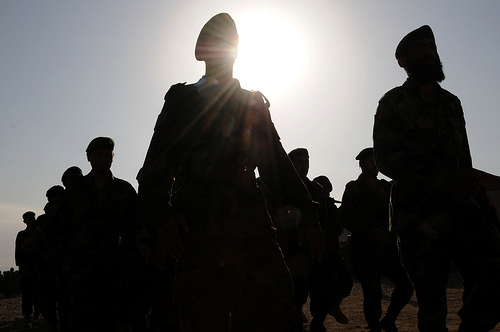 CNN– President Obama rallied U.S. troops and pledged continued partnership with Afghanistan during a previously unannounced trip to the country Sunday.
Speaking to about 2,000 U.S. and allied troops at the major U.S. base in Afghanistan, Obama said, "Those folks back home are relying on you."
"I know it's not easy," he said. "You're far away from home. You miss your kids, you miss your spouses, your family, your friends." But he added, "If I thought for a minute that America's vital interests were not served, were not at stake here in Afghanistan, I would order all of you home right away."
Earlier, Obama met with Afghan President Hamid Karzai at the Presidential Palace to discuss progress by the Afghan government in strengthening its ability to run the country and provide security for its people.
After the 30-minute meeting, Obama said he wanted to send a strong message that the partnership between the nations would continue. Obama also invited Karzai to Washington, and White House Press Secretary Robert Gibbs said the planned date for that visit is May 12.
Karzai said he wanted to "express the gratitude of our people for the help that America has given us for the last eight years," and he specifically thanked U.S. taxpayers for their aid in helping rebuild his country.
However, Obama made clear that his main reason for the trip was to visit with some of the roughly 80,000 U.S. troops stationed in the country. After changing from a suit to an Air Force One flight jacket, Obama told the troops they were making progress against al Qaeda and its allies in the Taliban, the Islamic fundamentalist militia that ruled most of Afghanistan before the 9/11 attacks.
Continue reading about Obama Saying the Afghan War Remains Absolutely Essential.
Photo by flickr user Afghanistan Matters
© COPYRIGHT CNN, 2010