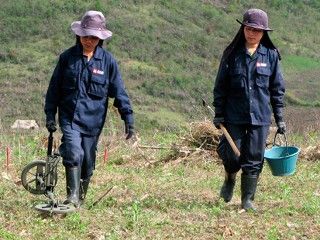 ABC NEWS– The young woman brushes her metal detector over coarse, dry grass in a field near a primary school. Against the sound of children playing, the machine beeps as she searches for unexploded bombs dropped by American aircraft four decades ago.
Most of those were cluster bombs — shells that open midair scattering tennis-ball-sized "bombies," as they are known all over Laos. About 30 percent of them failed to explode upon impact, and instead remained buried in the earth. On average, one person a day is injured or killed in some part of the country by unexploded ordnance.
Cluster bombs affect about two dozen nations, from Afghanistan to Zambia. But it was Israel's use of the weapon in Lebanon in August 2006, causing more than 200 casualties over the following year, that spurred members of the international community to act.
On Aug. 1, the Convention on Cluster Munitions came into force under international law. Countries that have ratified the treaty are required to cease production of cluster munitions, dispose of stockpiles and clear contaminated areas. The first gathering of the 106 member states will be held in the Laotian capital in November.
Neither Israel nor the United States will attend. In fact, the U.S., Russia, China, India, Pakistan, Brazil, and Israel are not signatories to the treaty.
The U.S., among others, has argued that cluster bombs are an effective military tool that saves their soldiers' lives. The U.S. also has argued that it's shifting to "smart" cluster bombs that self-destruct or deactivate, reducing the risk to civilians.
Laos, the most bombed country in the world per capita, strongly backs the treaty.
Between 1964 and 1973, the U.S. dropped more than 2 million tons of ordnance in a campaign kept hidden from Congress and the public.
Since then, about 20,000 civilians have been maimed or killed by unexploded bombs, according to Legacies of War, a Washington-based group that raises awareness about America's "secret war" in Laos.
Read full article HERE.
Photo by Nguyen Van Vinh/Reuters
© COPYRIGHT ABC, 2010