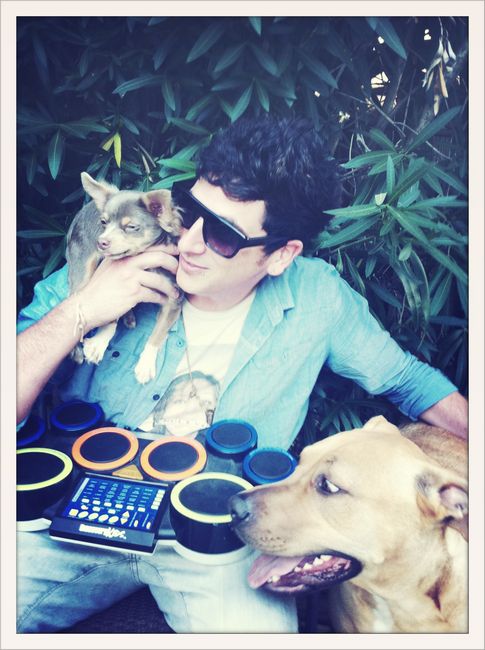 MEDIA ROOTS– I remember singing Paul Revere with fifteen year old Giovanni Giusti as a freshman in our high school art class.
Now I'm hearing his band The Limousines get introduced on the radio in the same breath as the legendary Beastie Boys.
In school, I knew Giovanni as a witty, sarcastic, Italian kid who loved hip hop and breakdancing. It's through that lifestyle that he got into turn-tabling, where he developed his passion for building, breaking down and reconstructing beats.
Gio studied music at Expressions, a bay area music and visual arts college, where he was able to master his engineering skills and perfect his sound. Under the name Nozebleed, he released his first solo album called Heart Beats Digital which consists of experimental hip hop beats and beautiful ethereal melodies built upon hundreds of samples taken from him and others. The album is a whimsical candy land for electronic music- it's girly and fun, light hearted yet multi-layered.
His second release, Romantics of the Rhino, also embodies the imaginative style and playful yet heart felt quality as Heart Beats, but Romantics contains a darker, more passionate build up and feel. The album is most likely a reflection of his mind state during its development and production. As an artist, Giovanni wears his heart on his sleeve, and isn't afraid to express his emotions or display heartbreak through his work. He processes his life through music and also embraces it as his therapy to overcome his personal struggles.
After releasing Romantics, Gio once again decided to challenge himself by tapping into the art of lyricism and writing with his third release– Apology Accepted. Admittedly not gifted with natural singing abilities, he didn't hold back from adapting the emerging technological capabilities of autotune to manipulate his voice to coincide with his fresh beats. It was a totally different style for his fans, but he doesn't regret the exploration into new creative avenues, since it all has made him who he is today.
Giovanni's beats gained a lot of notoriety in different circles, including jumps on Adult Swim and spots on numerous television shows. Once Eric Victorino of Strata heard Gio's music, he was drawn in. They started to collaborate their creations, and the rest is history in the making.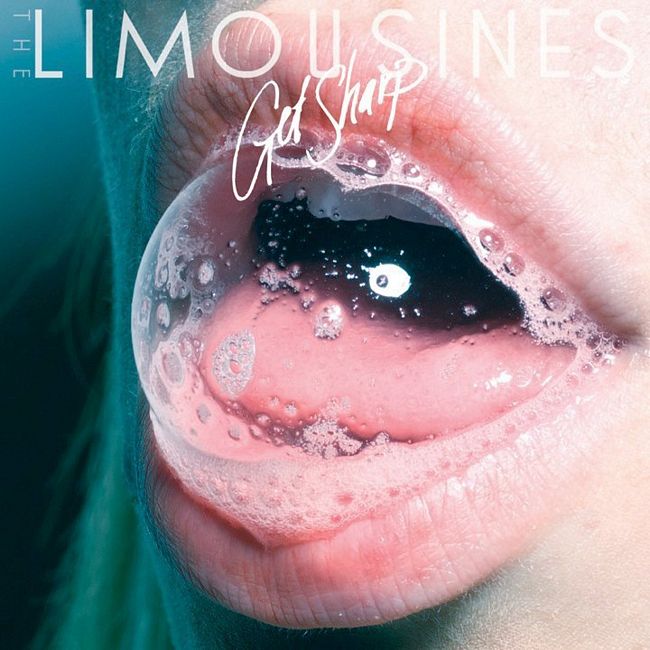 The Limousines's first full length album, Get Sharp, is slick and extremely catchy electronic pop– the kind that worms itself into your dreams and you wake up singing the lyrics to.
Eric's voice is strong and melodic, and he carries Gio's beautifully smooth yet complicated beats effortlessly. The Limousines are gaining a ton of attention all over the world and they're lining up tour dates left and right. They already have two hit singles off the album- 'Very Busy People', and 'Internet Killed the Video Star', and that's just the beginning.
Media Roots recently sat down with Gioi for an exclusive interview about his music and whirlwind journey as The Limousines.
***
MR: Who are some of your biggest musical influences?
GG: My influences range from early jazz like Dave Brubeck and Wes Montgomery, Miles Davis, Al Green, Van Morrison, to newer stuff like Bat For Lashes, Daft Punk, New Order, Friendly Fires, Yeasayer, Calvin Harris, Chromeo, Vampire Weekend, Phoenix, Lady Gaga, and Kanye West.
MR: How did you get into beat making?
GG: My buddy Todd and I used to scratch on turntables all the time, and through doing that I got more interested in the beats stuff, because I was scratching over the beats and they were just more intriguing to me. I wanted to learn how to do that, so I Googled it. Then I bought a MPC out of college and started just sampling records and figuring it out.
MR: What was the musical transition for you from mixing records to developing the beats of Heart Beats Digital and Romantics of the Rhino?
GG: I was doing hip hop stuff which was mostly sampling old records and chopping those up, but with Heart Beats it was pivotal because I was incorporating synth sounds over the samples and was creating new melodies and new music through that- like I would find a key of a song through what I am sampling, but then I would build it into something else. It was a really good learning experience for me.
MR: Did you get a lot of good feedback from both those albums?
GG: Totally, people still love it. Then I started to get into the more electro emo shit, which I kinda laugh at now. But there are fads in music and you have to go through them, you have to always be changing. It's weird for me when an artist doesn't ever evolve their music.
MR: People have to respect the fact that your talent is versatile. Apology Accepted was such a different sound for you, was that you trying to evolve your style?
GG: Yea. I think if I didn't go through that phase I wouldn't have the Limousines, because the Limousines blends that style but it's more serious. I wanted to do ridiculous, poppy ass shit, just as another outlet. And I can't sing which is why I used autotune. You should've heard me from my bedroom, my roommates would be like "Wow, Giovanni is singing again and it's terrible"- the dogs were barking and shit. But seriously, it totally helped me with my music writing skills and chorus to verses stuff.
MR: All your albums before have been associated with love in their themes, it seems like you are pretty in touch with your emotions and you aren't afraid to put it out with your music. A lot of artists make songs about love that are overplayed. But your music seems to take electronic music into the route that Atmosphere was taking hip hop with God Loves Ugly in the sense that you made it more playful, sexy and more relatable to women.
GG: That's awesome.
MR: Sample wise, where do you find most of your beats and sounds?
GG: I have my own library of beats. I recorded a lot of sounds from my room and archived them all into categories of synth and drum sounds– it's a mess.
MR: Do you still work out of a studio from your house?
GG: I have my studio in my garage right now. I record Eric's vocals with Todd from this hip hop studio in Fremont called Street Symphony and we do stuff there, but I also jump around from studio to studio. You don't need expensive gear to make something sound cool. I engineered a lot of the record too. It not what you got, it's how you use it.
MR: Damn straight. Were you a fan of Strata before you met Eric?
GG: I honestly had no idea who they were. I got introduced to Eric by a colleague who showed him my Jay-Z remix album. Eric was going through the band bullshit. They were touring constantly and barely breaking even every night. He wanted another outlet. So he's like I gotta make an album with this guy but it was hip hop, and I didn't really know what he wanted to do at first.
Then I heard his music and I was like wow this guy's lyrics are amazing and he can really sing. So he hit me up on AIM and he created a Myspace page called "The Panic Room". We started working stuff out together. I showed him all the new experimental music I was doing and he dug it. Then we would just start sending melodies back and forth…
I met him in a studio in Oakland for the first time to record Scrapbook EP. It was more down tempo Postal Service, kind of softer stuff and now we have evolved into a crazy poppy darker style. So ya, that's the love story. We fell in love too.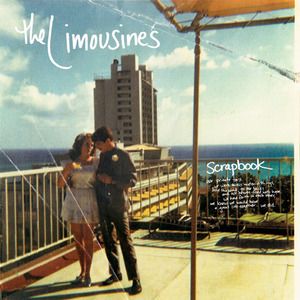 MR: Tell me about the artwork on Scrapbook.
GG: Scrapbook EP is a little white 7'' on vinyl. It's really cool and the artwork is super special. The cover of the album is a photo of my parents getting married on a rooftop in Hawaii- the photo is really epic.
Each picture is from a different memory and in every corner of the photos there are little notes scribbled about that memory, like one of Eric and his brother hugging and looking at a blank television. All of the songs represent time passing us by.
I grew up on vinyl, my dad had a huge vinyl collection, and to hold your own music on vinyl is really awesome.
MR: There is a fuzzy quality produced by vinyl that is unmatched by anything else. So how did you start gaining so much popularity as The Limousines? Was it with the Scrapbook EP?
GG: We showed it to Eric's friend and he played the song New Year's Resolution on Sound Check on Live 105 where new local music is introduced every Sunday. We started getting more attention, and it was cool to see our initial sound pick up even before Very Busy People.
MR: How did you guys develop Get Sharp?
GG: We didn't even really know each other when we were starting this album, and Get Sharp evolved from learning each other's ways. I would send him a dark beat and a happy beat. It was really cool because our styles would juxtapose perfectly together. I would send him a dark beat and he would sing happy lyrics over it, or I would send him a happy beat and he would sing some fucked up depressing lyrics over it like in The Future.
MR: So Eric writes the lyrics?
GG: Yes, 100%. But I have some input. If I think something isn't good we'll throw it out. Eric is a genius with that- whatever he spits out is either catchy, important or something you have to think about. It sets us apart from other pop acts who only sing about the clubs or the hos. We are deeper with that aspect of pop. There are a lot of different elements going on.
MR: When I knew you as Nozebleed, I remember you saying that you were nervous to play live. How does it feel to now headline packed venues and open for groups like Matt and Kim?
GG: It's weird. The one thing I still have insecurities about is that I create all this music in my studio at home, like a baseline, drums and then melodies on top of that. So it's like how do you recreate that live and represent? We started out by just throwing parties and playing behind a table with crazy lights. It was fun. I started to get more confident.
MR: The live show of yours was really impressive. It was a totally different sound, more gritty and raw with the live drummer. The venue was huge but you guys pulled it off, the whole room was raging and the bass was bumping.
GG: Ya, I was sweating all over my gear, it was terrible. But no, we are all for incorporating other people like live drummers into shows and we are also cool with playing sweaty dance parties just as Eric and I.
MR: What's next for the Limousines?
GG: Mostly we want to keep going with shows and get a tour going, but with the economy right now a lot of people aren't going to see shows and you see labels collapsing. We are going to go no matter what though even if a label doesn't jump on board with us. Bands like Metric and Tech Nine did it by themselves with the right networks, which I believe we have. It's just the difference of Eric and I promoting the album instead of 40 employees at a label doing it for you.
It's really cool being number one Manila in the Philippines. No one goes out there and we really want to go out and play. But right now, we are just busy pushing the album, playing shows and working on some cool new covers.
***
Giovanni knows that the ride could be a fast one that might end at any time- his attitude is one of pure appreciation and reciprocation of love from his explosive new fanbase. Most importantly, he's having fun. The music industry is a cut throat world and he isn't expecting anything more than what he is getting day by day, anything new is just a bonus.
He always had a unique style and an inspiring artistic depth and flow that I knew would take him places, but the thing I respect the most about him is his love for his friends and family that has kept him humble and true to his roots.
You can check out and buy every Nozebleed album on Itunes. To learn more about The Limousines, visit them at http://thelimousines.com/ or find them on Twitter or Facebook.
Abby Martin

Check out the video for The Limousines's most recent single, 'Internet Killed the Video Star'.