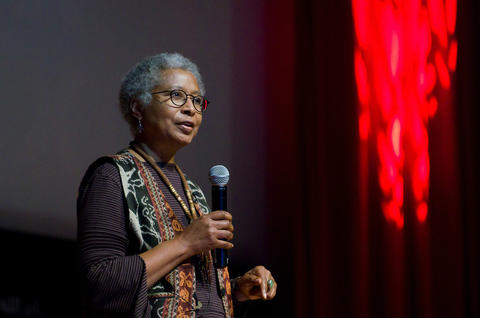 ELECTRONIC INTIFADA– Celebrated American author and poet Alice Walker will later this month be among 38 people aboard the Audacity of Hope, the ship sponsored by US Boat to Gaza as part of an international effort to break Israel's maritime siege of Gaza.
In a conversation with Ali Abunimah, Walker speaks about her thoughts on the eve of the trip and the parallels between the Gaza Freedom Flotilla and the Freedom Rides during the US Civil Rights movement when black and white Americans boarded interstate buses together to break the laws requiring racial segregation. The Freedom Riders were met with extreme violence — including bus burnings, attempted lynchings, jail and torture.
Walker — who has authored more than thirty books, the best known of which is the Pulitzer Prize winning novel The Color Purple — also reflects on her recent visit to the occupied West Bank, the role of dancing and joy in the struggle for freedom and the situation in the United States. Her latest book, a memoir, is titled The Chicken Chronicles.
Ali Abunimah: How do you feel about going on the US Boat to Gaza? Are you excited, fearful? What are your thoughts at this time?
Alice Walker: I'm thoughtful. Because we're told it could be a quite dangerous journey. And so I am steeping myself in the wisdom and the images and words of people who in my culture have sustained us through dangerous journeys. Langston Hughes, Malcolm X, Martin Luther King and Ella Baker, Fanny Lou Hamer, Black Elk, Geronimo, Crazy Horse, Ida B. Wells, Sojourner Truth, Bob Marley. It's good for me to feel that I am surrounded at all times by the presence of all these people who have understood American empire and who have stood against it.
AA: You've made the connection with the Freedom Rides that happened fifty years ago, in 1961. Can you talk about that?
AW: Yes, it means that the baton is being passed on to us of journeying to places in the world where people need us and where our governments are not helpful and in fact are destructive.
Just before my first year of college, the Freedom Riders came down to the South; I was living in Georgia under intense segregation that white supremacists and many black people assumed would last forever. They had become extremely complacent after a hundred years of brutality and subjugation of black people; and so when the Freedom Riders came down we didn't expect them to survive.
Just as we didn't expect Martin Luther King Jr. to live as long as he did. But we were very grateful because at least it assured us that someone outside of our own community objected to the repression that we endured every day and it meant a lot to us. It lifted our spirits, it gave us courage, it gave us hope.
AA: I was reading about the Freedom Riders recently and I was surprised by how little coverage the anniversary got in some of our mainstream media. Maybe I shouldn't have been so surprised. But one of the things that struck me that I learned was that the Kennedy administration at the time did not look favorably on the Freedom Riders and said that they were being provocative and that they should refrain from what they were doing. And that just struck me as almost a parallel with what's happening now.
AW: And I think that has been our experience. The government has never said "Oh yes, go out and protest." It has never said that. It has always said, "we will not support you and you shouldn't do it and it's wrong and it's bad and it's not good for you." But really that's why you protest. You decide that you know what you think is good for you and you go ahead and you do it.
AA: Some of the — let's call them "Gaza freedom riders" — have been writing or planning to write to their members of Congress or to the State Department to inform them that they are planning to take this trip. Are you planning to do that or have you done that?
AW: I have written a letter to Senator Barbara Boxer [(D-CA)] and Senator Diane Feinstein [(D-CA)] and Representative Barbara Lee who are my representatives to let them know what's going on and to ask their support and what protection they can offer.
But I did that because I was asked to do it and it seems like a good idea. But I can't say that I feel that they will be all that effective. I would like them to be but I think that at some point in all of these ventures one realizes that you're on your own and that this is something that you feel you have to do because it's a necessary work of the world and it's a way that our children can stop being tormented and deformed by the brutality they see visited upon children just like themselves all over the world.
Read full interview about Alice Walker on the Struggle for Justice.
© 2011 Electronic Antifada
Photo by Lazar Simoneov via TED