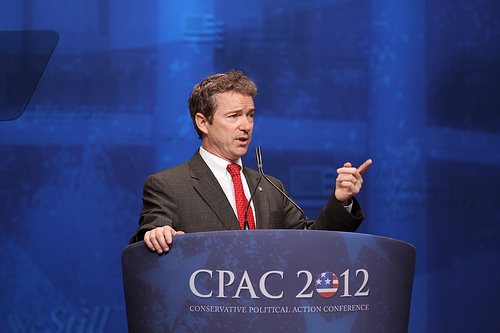 MEDIA ROOTS – In a surprising turn of events last Thursday, Senator Rand Paul came out on the Sean Hannity Show on Fox news to make a special announcement: his endorsement for GOP presidential candidate Mitt Romney. The announcement was a blow to the Ron Paul liberty movement who are still rallying for Ron Paul until the very end of the game. Despite his statement of concession in a recent newsletter, many die hard Ron Paul fans are still hoping that there's a chance for him to win the nomination with unbound delegates in Tampa.
But what does it say when his own son comes out to endorse his rival? Many are theorizing that the endorsement signifies Rand Paul "selling out" to the war mongering establishment that has worked to shut out his father's libertarian ideals for so long. Others are stating that it's simply a political strategy to bring the liberty ideas into the mainstream. I explore the issue in three segments below for RT TV, all with varying guest opinions and theories.
Love him or hate him, Ron Paul is unique in his political authenticity, and that unwavering genuineness of ideals is currently unmatched by any sitting representative. Above all else, this endorsement further elucidates that the American people cannot count on the members of the political establishment to do the bidding of the people–we can only count on ourselves to change the world around us. Wasting countless hours and precious energy on electing political representatives with the hope that they will "create change from the inside" may lead to only greater disillusionment, disempowerment and disengagement.
The political establishment has proven itself time and time again to represent the corporate bottom line of profit maximization, despite the consequences for humanity. Voting is important, a civic duty if you will, but it is literally the least thing anyone can do to participate. The votes that truly matter happen in our daily actions: the way in which we choose to live our lives, the businesses we support or don't support, the dialogue in which we engage with our community. Finding and voicing your passion will impact the world more than casting a ballot into an inherently flawed political system ever will.
Abby
***
Jack Hunter, official blogger for Ron Paul 2012, argues that the endorsement of Romney was a smart political move by Rand.
Lew Rockwell of the Ludwig Von Mises Institute talks about the need to work outside the system to effect change.

Even though Ron Paul himself sent out a concession letter admitting to not having enough delegates to win the nomination, Paco Elijah of Occupy the Media and Robert Vaughn, CA coordinator for Ron Paul's campaign, argue that Ron Paul still has a chance to win. The youtube comments against me in this video are vicious, simply for calling out obvious truths.
Photo by flickr user Markn3tel